The mythological genre is loved and supported by many avid readers all over the world. Though crime-thriller is the most recommended genre for people who wish to cultivate the habit of reading, mythological suspense also is an eye-catcher for beginners. Mythology-inspired literature is hugely based on gods, demigods, devils, goblins, and other mystic creatures. The folklore genre as we know it today is based on stories, songs, and writings. However, stories inspired by folklore are many in number. Here is a list of some critically acclaimed books inspired by mythology.
The  Song of Achilles by Madeline Miller
Beautifully written take on Achilles and Patroclus' from the latter's perspective. This book is set in Greece during the age of heroes. Hence, this is a book based on Greek mythology. Love, rage, faith, pain, and several other complex emotions are knitted smoothly in the story. Patroclus and Achilles' affection is a central focal point of the tale. Patroclus, an awkward young prince, has been exiled to the court of King Peleus and his perfect son Achilles. 
Notwithstanding the disputes, the boys develop a delicate affection, a connection which blossoms into something deeper as they grow into young men. But when Helen of Sparta faces kidnapping, Achilles is sent to distant Troy to fulfill his destiny. Torn between love and fear for his friend, Patroclus follows. However, he knows little that the years that follow will test everything they hold dear. Their bond lasts, wavering, but never faltering, even in the face of the challenges and tragedies that befall them. And Song of Achilles is a tragedy, as are most heroic tales. 
The Ramachandra Series by Amish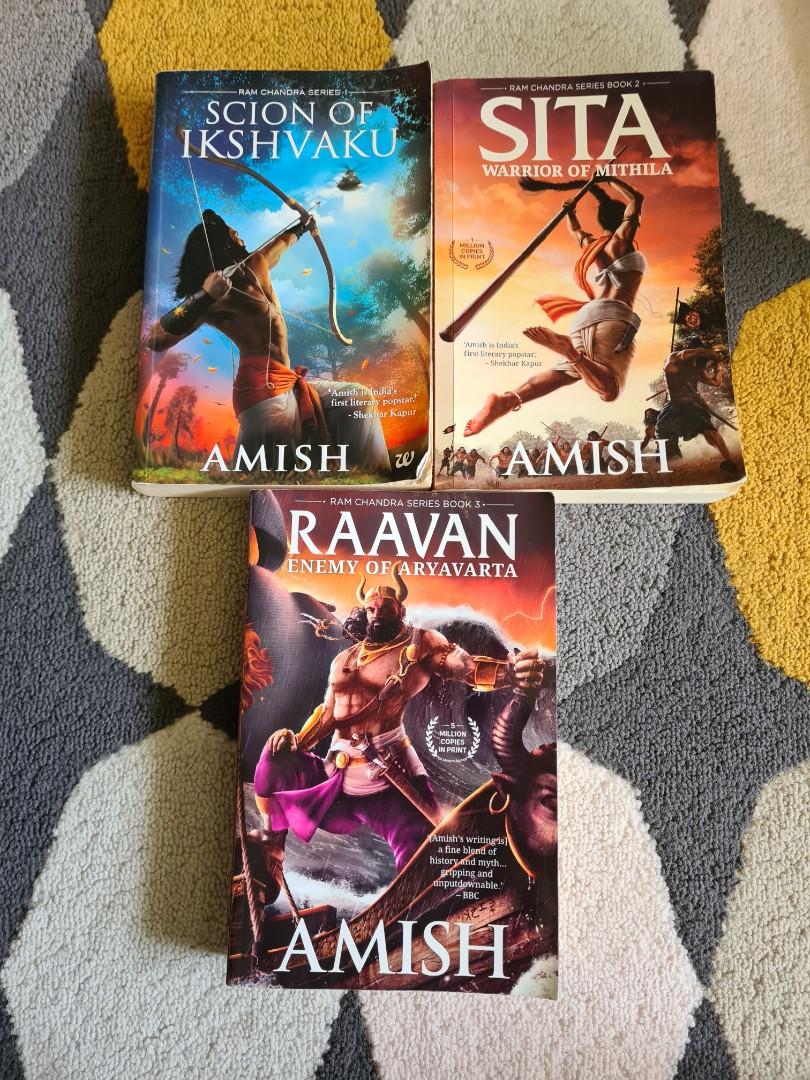 An Indian/Hindu mythology-based literature work. The mythical imagination of this series digs the past and blows into the possibilities that the future holds. The read is simply stirring. Also unfolding the most profound niches of every soul as well as the collective human consciousness.
Amish Tripathi, the author of the Ramachandra series relied on the stories and fables that he heard from his family since Amish. He imagined the Hindu Gods to probably not be mythical creatures but rather they were once humans just like everyone else. Every scene and development in this mythology-based fiction comes with a humanistic approach. It throws light on the realistic portrayal of technology, the generation of somras, and the civilized lifestyle. To sum up, the book is based on the journey of a man from a Tibetan tribe towards becoming a God.
Norse Mythology by Neil Gaiman
This Neil Gaiman book depicts the real Norse myths, not the potentially different stories found in Marvel Comic's "Thor."  Written in short-story style, each of these fiction tales tells of sacrifices and winnings. It has just specks of comedy that are sure to make you laugh out loud. Norse mythology has humor, complex characters, Gaiman's charm. The short stories are contemporary and fresh, yet timeless. The adventures of Odin, Thor, and Loki are a delight to read. There is no better person to re-write the Norse myths in a new time than Neil Gaiman, who uses mythology from all cultures in his work. 
The Lightning Thief by Rick Riordan
Most popular read when it comes to Greek mythology-inspired literature. The Lightning Thief is the first novel in the series revolving around the life of a regular 12-year-old boy, Percy who finds out he is the son of a Greek god. 
After that, Percy, his friends Annabeth, Grover, and his half-brother Tyson go on dangerous searches to stop evil from arising. The story is based on returning a lightning bolt to Zeus, the original wielder. On the way to his quests, he experiences betrayal, loss, and scary revelations. However, this tale tells us that every one of us has a vulnerability in life. And, how sometimes, that can turn out to be our greatest power. The lessons to learn from these stories are hidden in between the lines, and that is, another wonderful characteristic of this book.
Where the Wild Ladies Are by Aoko Matsuda
In this Japanese mythology-based fiction, Matsuda Aoko connects the present and the past. It brings fables and myths in the 21st century. Where the Wild Ladies Are is a collection of short stories originating from traditional Japanese folktales. However, it has a fresh feminine twist to it. The ethereal mood and zestful blend lend this collection a rather unusual trait. To be specific, these short stories are unapologetically weird as they have unconventional characters facing some unusual plots.  The character of these stories is comical, melancholy, but always with a sense of playfulness. The stories are also connected, though it may take a while to see how some connect. It creates an interesting fabric of folklore, seeing that all these stories weaving one over the other slowly yet carefully. The author's works are intertwined as the creatures and places are recurring.

The Dragon Warrior, written by Katie Zhao
The author has done a fantastic job weaving Chinese mythology in her novel series. Faryn Liu is a twelve-year protagonist who desires to be a warrior. It is a way to honor her family. Society has shunned their family as her father disappeared ages ago.  Faryn Liu and her brother, Alex share great dynamics.
The book has subtle yet effective writing. She, her brother, and other unlikely allies by her side, she leaves for a quest to find the immortals islands in Chinatowns. The aforementioned richly woven contemporary middle-grade fantasy debut, full of humor, magic, and charm which will warm your heart.
Every great civilization possesses its own treasure of rich imagined and told mythology. From the deserts of Egypt to the holy lands of India, and many other cultures serve to be the classic examples. Thus, each of them, carry an abundance of traditions, legends, rituals, and cultural beliefs which led to the foundations of the mythology-inspired literature.